TOLES

TOLES - REGISTERED TRAINING AND EXAM CENTRE
EUPC s.r.o. is a registered training and exam centre for the language examination Test of Legal English Skills-TOLES. EUPC s.r.o. is authorized to perform preparatory courses, including examinations at all levels with a TOLES license certificate.
General information
The language examination Test of Legal English Skills (TOLES) is the only internationally valued and credible legal English exam on the market that can be undergone. It is organized by Global Legal English that works closely with the Law Society of England and Wales and was created in cooperation with the law firms. TOLES is recognized by the most prestigious legal offices in the world as well as the European Union institutions.
Levels of TOLES
TOLES is not an academic exam and really cannot be compared with general English exams. TOLES more focuses on the practical part of the use of English. The exam is not formally included under the Common European Framework of Reference for Languages because its professional and legally oriented content exceeds the boundaries of normal English language certification.
TOLES FOUNDATION (refers to B2 of CEFR)
TOLES HIGHER (refers to B2/C1 of CEFR)
TOLES ADVANCED (refers to C1/C2 of CEFR)
Can I not succeed in testing?
No, the exam is referred to as the "no fail exam", so an applicant obtains a certificate at any number of points. Certainly, the result is scored into individual categories and verbally evaluated, with a low number of points a recommendation for repetition of the curriculum is given.
Who will benefit from taking TOLES?
TOLES is suitable for law students, students of English language, attorneys and lawyers specialized in international law, commercial law, financial law and banking, translators and interpreters from and to English.
Does the TOLES exam certificate 'expire' after a certain period of time?
No. Your TOLES certificate is valid for life.
What does the TOLES test consist of?
The TOLES exam consists only of a written part (Reading + Writing) and a Listening for Higher level only. It does not include the oral part.
What are the exam dates for 2021?
24 June (deadline for registration June 4)
19 August (deadline for registration July 30)
25 November (deadline for registration November 5)
Contact:
PaedDr. Mgr. Mária Baučeková
baucekova@eupc.sk
+421 915 839 690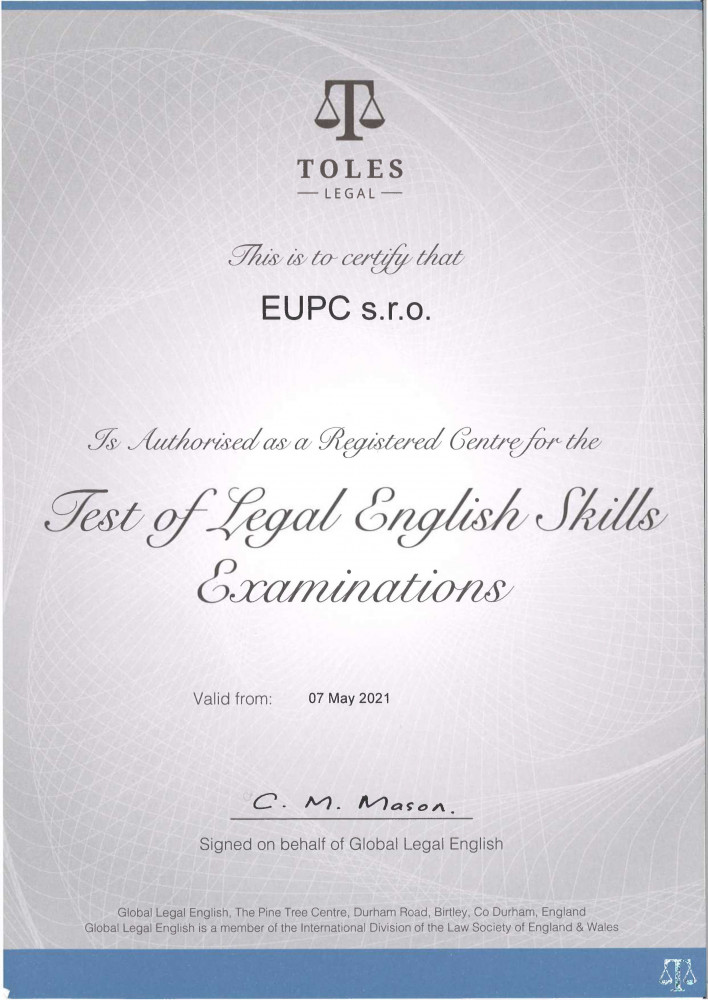 Learn more about our services
Consulting and Fundraising
Project Management
Public
procurement
Education
Organising Training Courses and Seminars
TOLES